Looking for that perfect gift for someone who has everything?
If you know they like wine, why not send them a gift of wine.
Here are some fine wine recommendations which will impress anyone who knows a thing or two about wine.
Keep checking back as we update these fine wine choices regularly.
Also…some of these fine wines and champagnes are very exclusive and therefore, limited so, grab them while they last.
Silver Oak Napa Valley Cabernet Sauvignon – Engraved in Hand Carved Burlwood Gift Box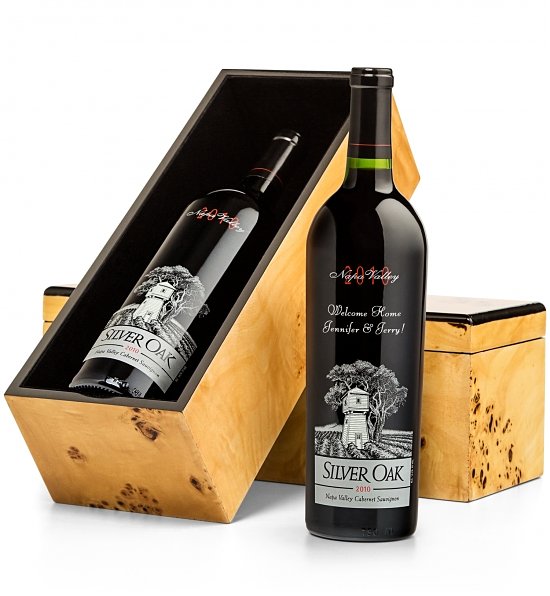 Silky, definitive and berry-rich Silver Oak Napa Valley Cabernet Sauvignon is offered in our exclusive lacquered Burlwood keepsake box. Elevate your gift to an even greater celebration by adding your own personal message, engraved onto the surface of the wine bottle. It's a thoughtful and grand gesture to congratulate newlyweds, wish loved ones a happy anniversary, or celebrate any occasion that deserves a monumental gift.
A complex and layered expression of California Cabernet, the wine has a dark garnet color and is bursting with fruit even as it is poured. It has a nose of cassis, violets, licorice, allspice and roasting coffee. On the palate, it has an extraordinarily rich attack, a satin texture and an exuberant expression of fruit on the mid-palate that comes from picking grapes at the peak of their ripeness. The wine finishes with notions of savory umami and fruit with a medium tannic grip.
For anyone who knows a thing or two about wine, this gift of a bottle of Silver Oak Cabernet Sauvignon will be sure to impress.
Shop more Silver Oak Gifts and Gift Baskets here!
Sponsored Ad
Jay Z's Ace of Spades Gold Brut Champagne in Gift Box
In the $300 – $400 range, this bottle of champagne makes an impressive gift all on its own.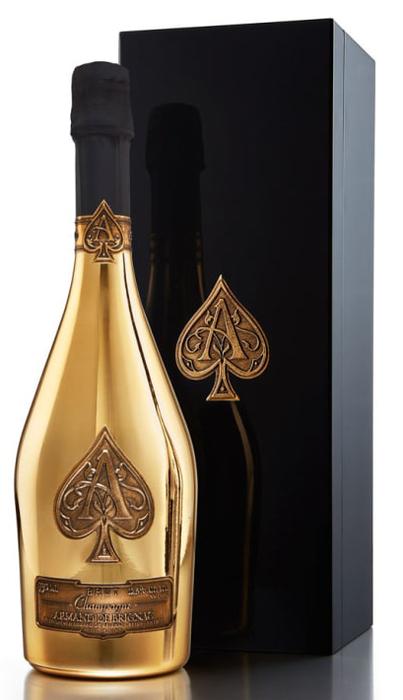 A few notes for the wine connoisseur about this fine champagne reviewed by Decanter:
This is a three-way assemblage: three grape varieties – and equal percentage of Pinot Noir and Chardonnay with 20% of Pinot Meunier – and a blend of 3 vintages, 2009, 2010 and 2012.
The nose is full of flavours and rich with notes of white flowers and crème patissière. However, the palate is crisp, fresh and delicate with a lovely creamy texture.
It is elegant, refined and very stylish (unlike the bottle!). It's a pleasant combination of power and concentration blended with finesse and elegance.
While the dosage is 9g/l, it feels much drier, more like a 5g/l and this probably due to the spinal cord of acidity.
Sponsored Ad
Jay Z's Ace of Spades Rose Champagne in Gift Bag

Yeah, we have the pink one too…
Winery: "Armand de Brignac Rose is a beautiful salmon-hued wine with aromas of fresh strawberries and blackcurrant. The bouquet is rich, with red fruits in front and lightly smoky grilled notes behind. Elegant and complex, refreshing and eminently quaffable."
| | |
| --- | --- |
| Bottle: | 750ml, cork |
| Varietal: | 50% Pinot Noir, 40% Pinot Meunier, 10% Chardonnay |
| Alcohol: | 12.5% |
| Region: | Champagne, France |
What a memorable gift this will be! Send the Gold Brut for him and the Rose Pink Champagne for her!
Shop Jay Z's Ace of Spades Champagne now!
Sponsored Ad
Sponsored Ad
Sponsored Ad
Shop more Wines here!
Sponsored Ad