If you are looking to send a very strong thank you, congratulations or happy anniversary, or wedding gift, consider sending a champagne gift or gift basket.
Oh, the many reasons for champagne celebrations…and yes, there are many…probably more than you think. The impact will be very meaningful – more than if you send a gift with wine. Not that wine doesn't make a great gift, but if you want to send a heartfelt profound and very bold message, champagne is the way to go.
Popping the Cork
Who doesn't love the idea of popping open a corked bottle of champagne?
This is part of the whole ritual of enjoying champagne. Getting out the special champagne flutes, preparing for the toast while the chosen one gingerly and lovingly pops the cork – trying very hard not to make a bubbly mess, of course (and let us not forget the spillage – we certainly don't want to waste any!)
Occasions for Champagne
So when can you celebrate with champagne?
Just about any special or even somewhat special occasion can be celebrated with a bottle of champagne. The fact that you are indulging in champagne can change the whole mood of the celebration from somewhat special to super special.
There are the obvious examples of having a champagne celebration including weddings, arrival of new babies, anniversaries and university graduations. And let us not forget the corporate celebrations involving champagne.
Corporate Champagne Gifts
Client and Corporate Relations
The signing of a large contract or the signing of a large new client can both be reasons to celebrate with a bottle of the bubbly.
Or if you want to send a very strong corporate message in order to obtain that new client, a bottle of champagne would certainly be appropriate…and might just do the trick.
A Professional Thank You
For legal firms, you may just attract that large corporate client to your law firm and have many years of a fruitful relationship between you both. The clincher may have just been that gift with a bottle of champagne in it.
Professional Congratulations
Did a friend or colleague of yours just get elected into office? Did they become mayor, Senator or even local municipal politician? As a politician, you know how hard it can be to run for office…and then win.
Or perhaps your friend or colleague received a promotion which they have been working of for some time.
Whatever level they have reached, it is most likely worthy of a champagne celebration.
Choose the Perfect Champagne
With the many levels of champagne available, your gift recipient or co-celebrator will know just how much you appreciate them, how much you think of their efforts or how important the moment is…and sometimes it just comes down to money and how much you have available to spend.
Here are just a few examples of some very fine champagnes widely available for gifting.
Krug Champagne
For one of the ultimate champagne gifts, one that includes a bottle of Krug champagne will be just that.
Krug champagne is on the top of champagne varietals. If you have had the pleasure of enjoying a bottle of Krug champagne, you know exactly why.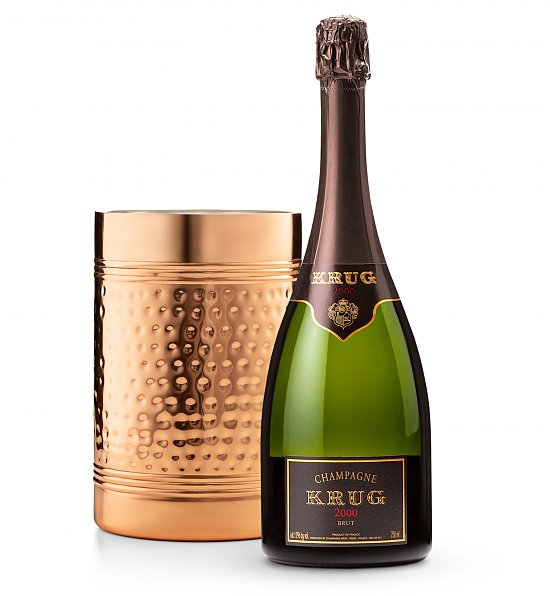 Choose this luxurious champagne gift which includes the very high end bottle of Krug Champagne along with a hammered copper wine chiller.
Louis Roederer Champagne
Of course, everyone would send the most expensive if they could, right. But, not everyone has Louis Roederer budgets as a bottle of Louis Roederer Cristal champagne can be upwards of $300.
For everyone who has tried Louis Roederer Cristal, you know it is worth every penny but still very pricey.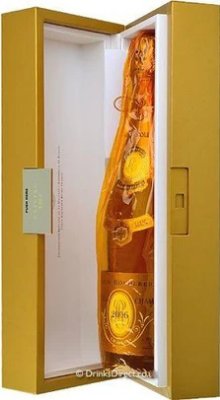 Dom Perignon Champagne
A bottle of Dom Perignon champagne is the next level down on the scale but, still a very worthy champagne. Anyone receiving or sharing in a bottle of Dom will know that this moment is important. Not everyone spends over $200 for 1 bottle of wine or champagne (or any drink for that matter).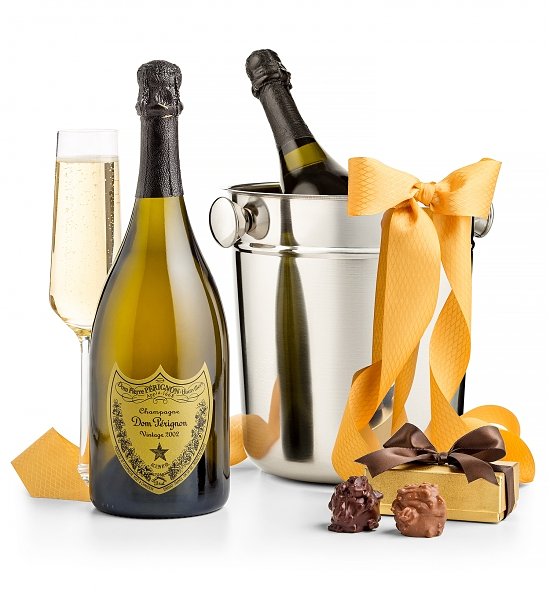 Send a single bottle of Dom Perignon, send a signature bottle with gift box, send a bottle of Dom with a wine chiller, or send them the Grandaddy of Dom Perignon gift baskets, this one filled with tons of gourmet foods, exclusive wines and the topper, a bottle of Dom Perignon champagne.
If you send your lucky recipient this Dom Perignon champagne gift basket packed with lots of other memorable wines – including a Silver Oak Cabernet Sauvignon – and foods, they will not soon forget who sent it to them.
Veuve Clicquot Champagne
A more moderately priced, but very good quality champagne, is Veuve Cliquot.
For under $100, you can enjoy a very nice champagne which still packs a punch in terms of gift effect. Everyone I know who enjoys champagne is very happy to receive a bottle of Veuve bubbly.
Send a simple bottle of Veuve Clicquot Brut Champagne to your gift recipient…or if you want them to feel really special, you may want to send them a large gift basket filled with yummy treats and highlighted with a bottle of this classic and affordable Veuve Clicquot champagne.
Moet et Chandon Champagne
And last but certainly not least, there is the Moet et Chandon champagne which still falls into the real champagne category but, is less pricey than all of the above.

What better way to send some celebratory cheer than with this gourmet chocolate gift basket topped off with a bottle of bubbly Moet et Chandon Imperial champagne.
You may like these gift baskets:
Pick your Champagne Price
For the biggest bang, if your budget allows for it, send them the most expensive and exclusive champagne gift – one with a Louis Roederer or Krug champagne in it. Your gift recipient will be mightily impressed.
If your budget is smaller, you can still opt for that champagne gift but one with a bottle of the more affordable Veuve Clicquot or Moet et Chandon champagnes.
Regardless of which champagne you send to your gift recipient, the fact that you chose champagne to include in the gift signifies a higher level of celebration, congratulations, thank you or appreciation.
From the standpoint of the gift recipient, you know you've done something pretty remarkable or reached a pinnacle of success if you receive a gift with a bottle of champagne in it.
So send that bold statement by sending them a champagne gift – one that they will remember for a long time to come.